Bearnabui Tessagh of Cnoccarne
Date of birth: May 16, 1991

Ir Ch Greenswell Arranz of Chapelleigh x Carrokeel Gwyneth of Bearnabui
Emma Ross (Cnoccarne)
Mission, British Columbia

It is both an honour and a privilege to have been asked to write a few
words about Jim Behan of Bearnabui.
From the first moment I met him, oh so many years ago, that soft
twinkle in his eyes spoke volumes and I felt he would be one I would
always have the greatest respect for. His gentle, soft spoken manner with
all the hounds gave me insight into the kind of man he is.
On the few occasions I have been able to spend time with Jim, he has
been a well of information about so many hounds and people from the past
and so willing to share his knowledge about the breed.
An incredibly generous man for all occasions.
I remember at a Specialty in California where Jim was judging and at the
dinner afterwards there was an auction, a beautiful big photograph of
Jim with his beautiful Mary was being auctioned off. I knew that I
really with all my heart wanted this photo. After what seemed like hours
I finally had my prize, one that has always sat in a very prominent
place all these years.
Jim, you are always in my heart.

When the opportunity came to have one of his puppies from a lovely
breeding between Greenswell Arranz of Chapelleigh and Carrokeel Gwyneth
of Bearnabui in 1991, I jumped at the chance.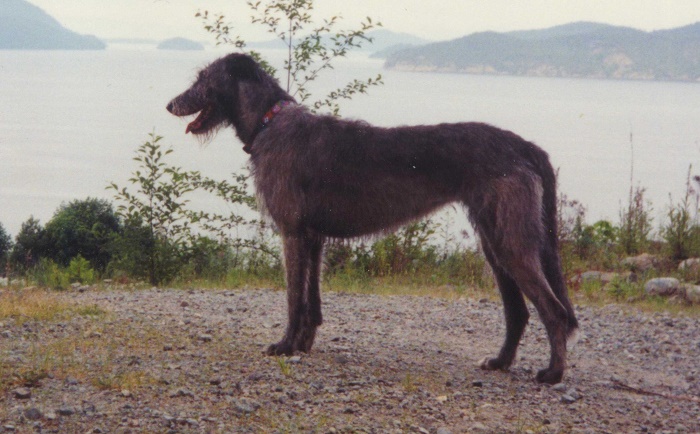 Tessagh at 3 years

Bearnabui Tessagh of Cnoccarne crossed the ocean to live here in BC. She
was a beautiful free spirit with that twinkle in her eye that I am sure
came from Jim.

I bred her twice , both times to Can Ch Marumac Garnetof Cnoccarne and she produced some lovely offspring. Her daughter, BIS AmCan Ch Ar Morga Amaragh na Cnoccarne (Mari), was everything that I had ever hoped for in an Irish Wolfhound.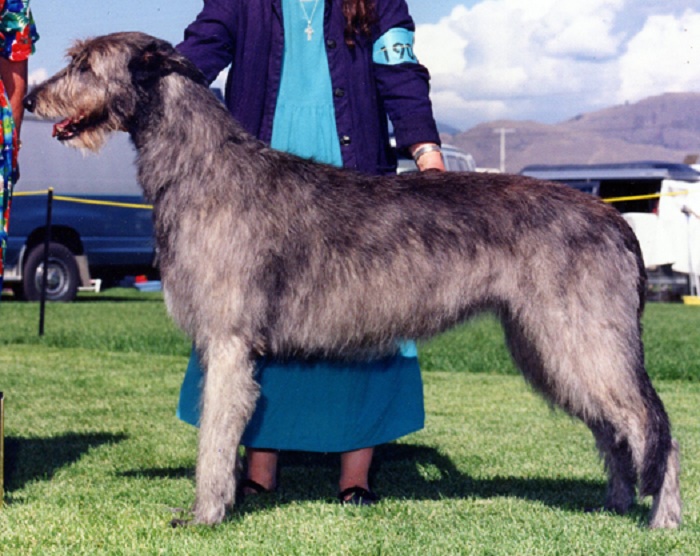 Mari at 3.5 years

Mari, also bred twice, produced two Best in Show winners through the years.
Her son, Ch. Cnoccarne Cashelagh (Cashel) by Am.Can Ch Knocknarea Phelan of Cnoccarne, was a BIS winner
from the Veteran class at the Irish Wolfhound Club of Canada National Specialty in 2007.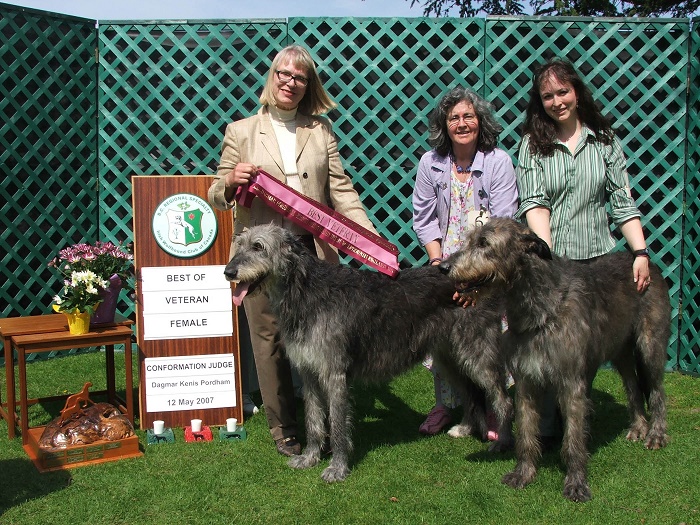 Best veteran male and female: Cashel (right) with his half-sister Andoragh

Mari's daughter, Cnoccarne Andoragh, was BIS also from the Veteran class at age 8.5 years.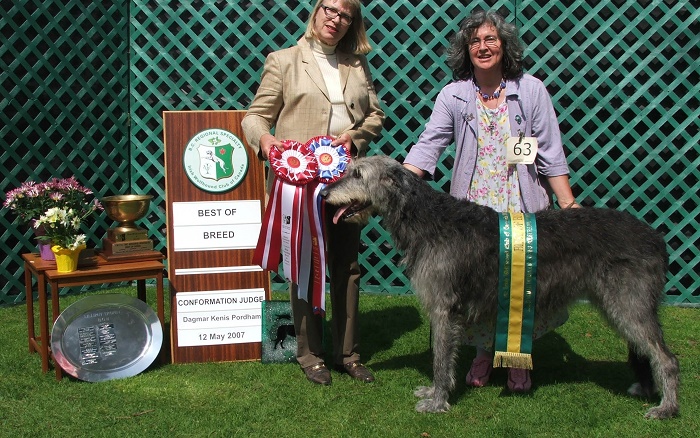 BIS IWCC Specialty 2007 Cnoccarne Andoragh

I continue to see certain traits come out in offspring descended from these hounds. I have 6th and coming up to 7th generationdown from Bearnabui Tessagh of Cnoccarne and I am ever so grateful to Jim.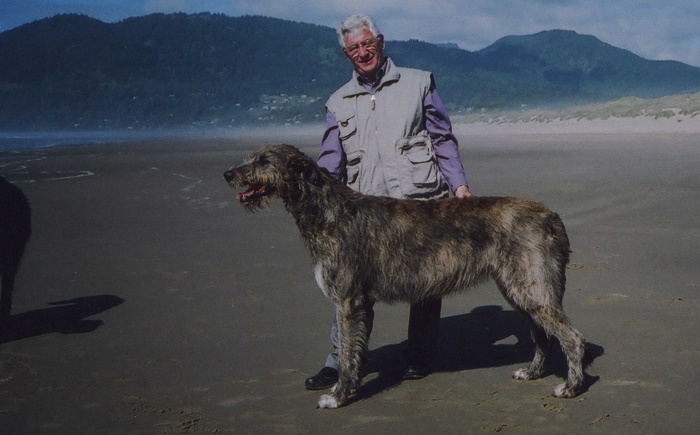 Jim meeting Cnoccarne Treasagh, a Gr-Gr-Gr-Grandaughter of Bearnabui Tessagh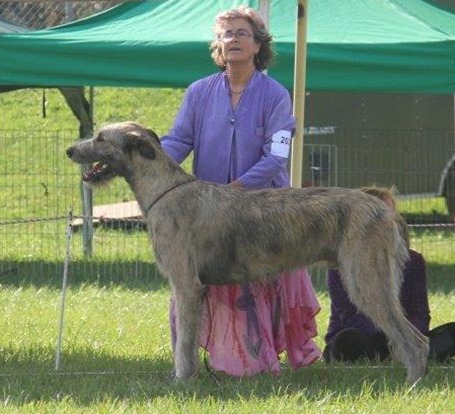 Cnoccarne Errigalagh at 13 months, 6th generation down from Bearnabui Tessagh

Pedigree