Bearnabui Image of Knocknarea
Date of birth: May 16, 1991.
Ir Ch Greenswell Arranz of Chapelleigh x Carrokeel Gwyneth of Bearnabui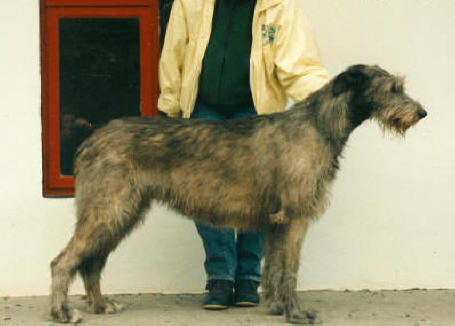 Bearnabui Image of Knocknarea
We bred Image twice. From her litter with Chulchoill Elan, we kept Knocknarea Innion, the only bitch pup. She had a fabulous show career, gaining her title in 1997.

From the litter to 'Shadow' we kept Knocknarea Night Shadow. She started her show career on a high note, winning Reserve Best in Show at the Irish Wolfhound Specialty 1998 from Graduate Bitch.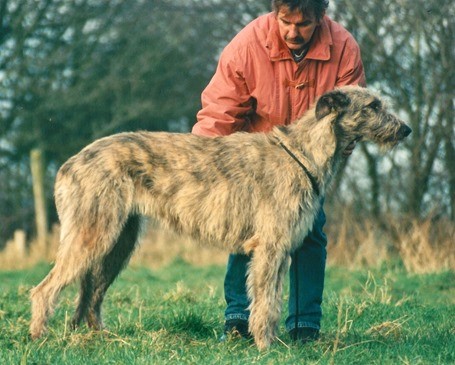 Night Shadow at 10 months
Unfortunately an accident here on the farm resulted in her two front teeth being knocked out; we did not show her after that. Through her son Solamh however, she passed on the Bearnabui genes to Ir Ch Knocknarea Neilliagh. 'Nelly' is a great-granddaughter of Bearnabui Image and it is uncanny how the Bearnabui stamp came through in her. So much so that a ringsider at one show in 2009, without knowing anything about Nelly, remarked "There is a beautiful Bearnabui hound." Nelly is now well over nine years old, still beautiful and sound, lying at my feet as I write this, with her daughter 'Charlie' beside her. We know it took a considerable amount of arm-twisting to get Jim to agree to this project and tell his story, and allow others to con-tribute. But we can only agree with a certain Matthew who said about two thousand years ago: "Nor do people light a lamp and put it under a basket, but on a stand, and it gives light to all in the house" - Matthew 5:15
Shine on, Jim.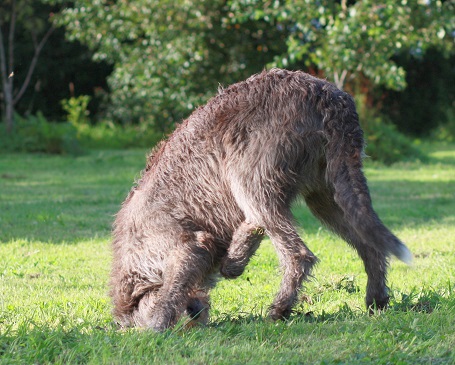 And we take a bow
Pedigree