Ch Genevieve of Bearnabui
Date of birth: April 24, 1986
Ir UK Ch Culvercroft Benjamin of Gulliagh x Carrokeel Elvin of Bearnabui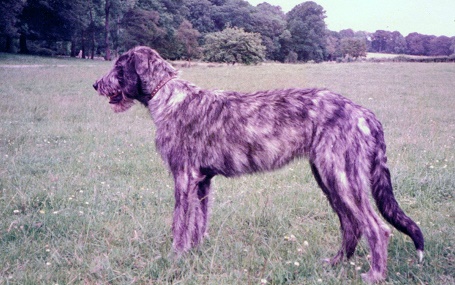 Carrokeel Elvin at six months of age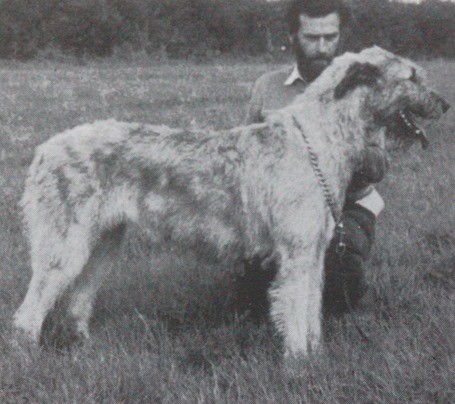 Genevieve at 18 months
1989 Jürgen Papenfuss placed Genevieve Best Bitch at the Irish Wolfhound Club of Ireland Specialty
Two weeks later at Swords Victor Besson awarded her Best of Breed.
She took Best of Breed under Billy Clarke at Carlow,
Green Star under Ann Cuthbert at Clonmel,
Green Star under Gillian McDowell at Killarney.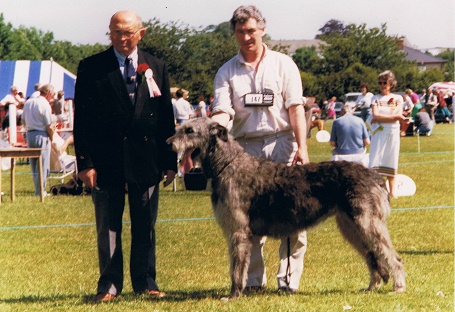 Ch. Genevieve gained her title that year. From then on she was only shown on special occasions.

1990 At the Irish Wolfhound Club of Ireland Specialty, Liz Thornton awarded her Best of Breed.
Liz wrote
"1st & Best of Breed. Behan's Ch Genevieve of Bearnabui, four year old bitch far and away the best one in the class in my opinion and having been in the lucky position of judging in four countries within three months she would have topped any entry with ease wherever she was, geographically speaking. Iron grey wiry coat, an exceptionally beautiful head and expression, tiny highest rosed ears, long arched neck which gave her such pride in bearing. Correct front with good width viewed headon, perfect proportions through the body due to a well shaped deep and long ribcage, low hocks, long tail. To be critical, she needs more shape over her loin and a fuller second thigh, but to watch her in action flowing over the top of the ground . . . as one breeder to another, finding one of this calibre, showing her head off too, is one of the best experiences I have ever had whilst judging."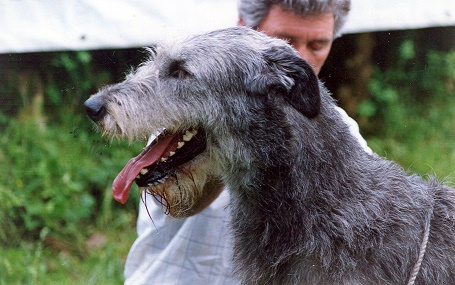 Genevieve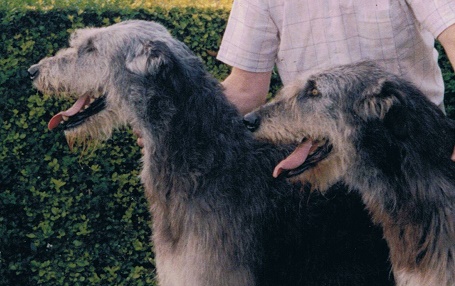 Carrokeel Elvin of Bearnabui (right) with her dam Mary of Nutstown



Pedigree