Bearnabui Irial
Date of birth: May 16, 1991
Ir Ch Greenswell Arranz of Chapelleigh x Carrokeel Gwyneth of Bearnabui
The first ever show we visited, with our first wolfhound puppy in tow (but not entered) was a championship show at the RDS, Easter Monday 1982. Jim instantly spotted the newcomers to the breed, went down on eye-level with our pup and started a charming conversation with her, before introducing himself to us with "Hi, I am Jim, welcome to the breed." This was so typical for Jim as we got to know and love him over the decades; to this day, wolfhounds always come first, with their owners, especially when they are new to the breed, a very close second.

We were fortunate that we could witness and admire his Bearnabui hounds in the ring when we started out in the breed.
Watching his hounds instilled in us an everlasting sense for correct type, movement and soundness.
Jim's skillful gentle way of handling (always on a loose lead), will always be our model for how good handling can bring out the best in one's hound, displaying total harmony in motion.

In the ring Jim has been a true sportsman, always accepting a judge's decision with grace and a smile and treating his fellow exhibitors with courtesy and respect. When competing in the ring, we were just as delighted to see Jim win as we would have been winning ourselves.

When Jim allowed us to have Bearnabui Irial and Image we were thrilled.
They grew up into beautiful sound Bearnabui hounds with lovely temperaments.
Both had a great influence in our line which is still present today. In his own recollection, Jim already mentions Irial's litter with Knocknarea Eilis which produced Groi and Grace.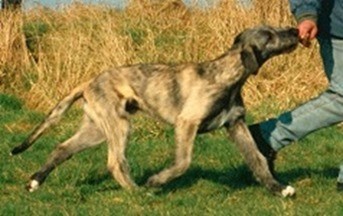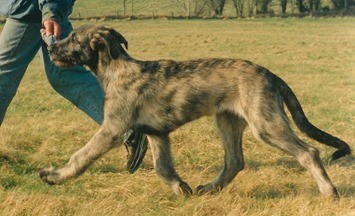 Groi and Grace being introduced to show training at three months of age
When irial's sister Image had a litter by UK Ch Shadow of Kilmara, one pup went to Sweden. Four-year old Groi and his little cousin 'Nota Bene' were inseparable, so they both went, becoming Swedish champions later. We kept a daughter by Groi, Justine.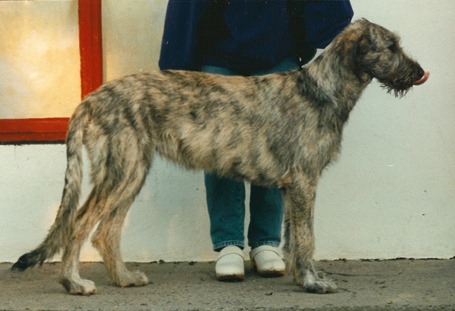 Justine at six months
Pedigree