Ch Brigid of Bearnabui
Date of birth: April 8, 1979
Gwernyfed Lleigus of Carrokeel x Ir UK Ch Mary of Nutstown 1981
Brigid won the Graduate Class under Alice Dunlop on the day her mother, Mary, gained her Irish championship title at our IWCI Breed Specialty. I heard later that the judge loved her and would have liked to have given her the Green Star instead of her mother, but she behaved very badly for her handler that day - my dogs would only show for me. I was delighted as I wanted Mary to 'finish` that day.
Irish Breeds: Brigid was awarded Best of Breed under Betty Murphy and went on to win Best in Show. Her sister
Aine of Bearnabui
was awarded Reserve Green Star.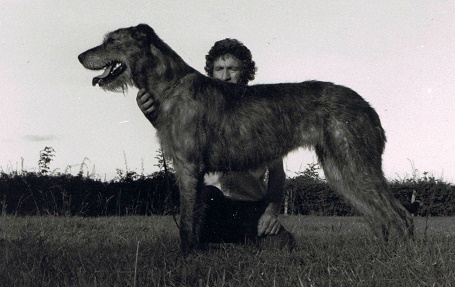 Aine of Bearnabui
Munster Canine: Cynthia Boissevain awarded Best of Breed to Brigid.
Dublin Dog Show Society: Gillian McDowell gave Brigid Best of Breed and she went on to win the Hound Group.
1982
Brigid won Best of Breed at Bray under Billy Clarke.
Sheelagh Seale awarded her Best Bitch at the Irish Breeds.
Terry Thorn also awarded her Best Bitch at Swords.
Brigid went on to win a total of eight Green Stars in 1982.
Having gained her title in 1982, Brigid was only shown on special occasions from then on.

1983 John Briggs awarded Brigid Best of Breed at the Northern Ireland Irish Wolfhound Club Specialty.
1984 IWCI Club show: Brigid won Best of Breed under Ben Simpson.
Also in 1984, Brigid took Best of Breed under Liz Thornton at the Irish Breeds Championship Show and went on to win Best in Show.
Liz wrote: "Ch Brigid of Bearnabui, 5 year old in immaculate condition, enhanced by a wiry, close-fitting coat. Lovely head with gentle expression. She is very grey in the face and looks older because of it. Long, strong neck and a beautifully made front, not only a sloping shoulder but also complementing slope of upper arm and a correct rib-cage. Her chest was broad viewed from the front yet legs tucked neatly under the body seen from the side, exactly as requested by the Standard. The same perfection of construction of the quarters, breadth of stifle, curve of stifle, low hock. Tail is very long and heavily coated to complete the picture. I wondered afterwards whether I have ever gone over a better made hound, I think not. Moved soundly with perfect balance. I would like to have said that she excelled in reach and drive but she was lazy on the day and barely did enough."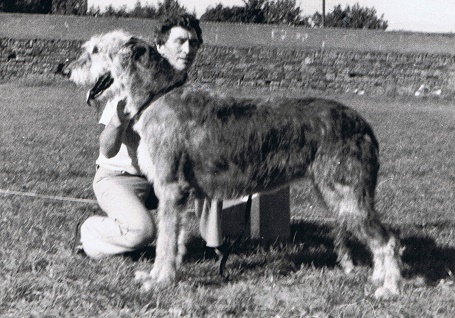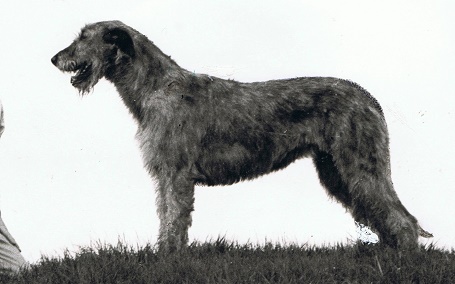 Pedigree