Ir UK Ch Bearnabui Jacinta
Date of birth: July 20, 1991
UK Ch Eaglescrag Justin x Ch Genevieve of Bearnabui
Fourth generation Bearnabui
Owned by John and Maureen Walsh (Lisnagry)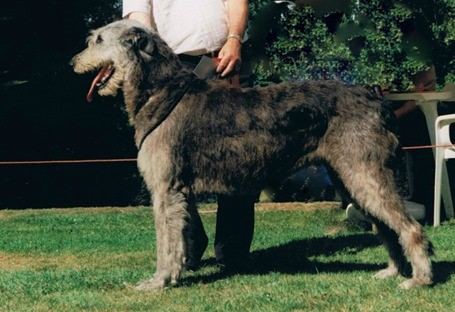 Rosemary Follett awarded Jacinta Best Head & Expression at the Club Show 1992 when she was still a puppy.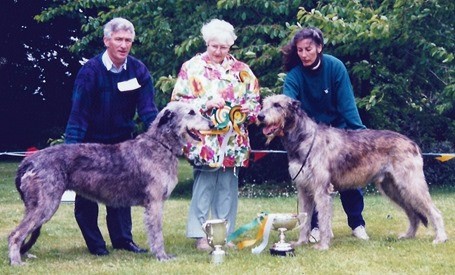 1994. Jacinta BIS; Greenswell Arranz of Chapelleigh ResBIS
1994
Mary Morrison awarded Jacinta Green Star and Best of Breed at our Club Show
Mary wrote:
Walsh's Bearnabui Jacinta. A really lovely balanced, sound bitch with presence and quality.
Totally correct. She has a very pretty true bitch's head with lovely expression and correct ears. Plenty of substance and depth. She really moved out. Has a correctly rounded rear and correct tail set. What a joy to have seen her – could have taken this one home.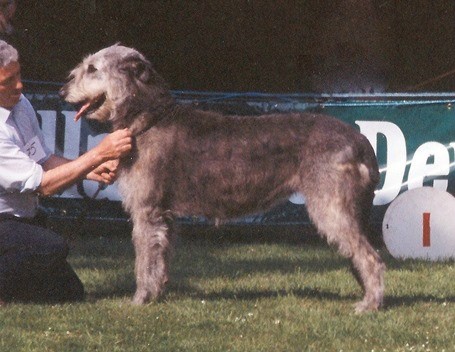 BOB 1995
1995
Sam Ewing awarded Jacinta Green Star, Best of Breed & Best Movement at our Club show 1995. He wrote:
Winner of the Green Star, then Best of Breed, was Bearnabui Jacinta, nearly four years old, bred and handled by Jim Behan, and owned by Mr & Mrs John Walsh, from Co Galway. This lovely grey brindle is to my eyes close to perfect in type, with everything where it should be, topped by the soft true IW expression in a prematurely silver head. She also won the cup for Best Movement, so the total package really was something special. I was told later that Jacinta had also won Best of Breed at the 1994 Specialty under Mrs Mary Morrison.
1995
Remy Erath awarded Jacinta Green Star & Best of Breed at Bray Show.
He wrote:
"a four year old wonderful bitch with the typical expression which is more and more seldom seen. Very nice head, eyes and ears are of lovely shape, excellent pigmentation, neck, topline and croup with a nice arch over the loin. Well formed chest with a beautiful shoulder, excellent angulations of the hind quarters, large low hocks. She has excellent round feet and a very good coat. The movement is powerful, free and with great reach. A bitch of great quality."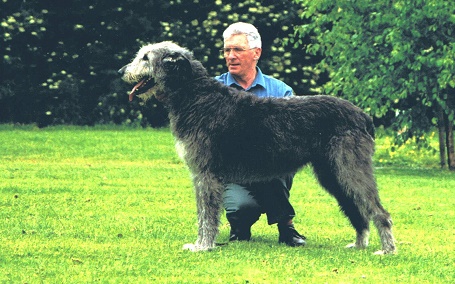 Also in
1995
Gillian McDowell awarded Jacinta Best of Breed at Dunlaoghaire
Mrs M Hutchins awarded Jacinta the Green Star at Tralee
Elizabeth Pyke awarded her Best of Breed at Drogheda
1996
Victor Bession award Jacinta Best of Breed at Irish Kennel Club show and she went on to win the Hound Group under Dermot Drum
Jacinta's UK Championship
1995
Jill Bregy awarded Jacinta: C.C., Best Head & Expression, Best Movement at the Northern Ireland Club Show. She wrote:
Jacinta: beautifully balanced head, absolutely smooth zygomatic arch, nicely placed eye and very strong muzzle, lovely outline both from the side and head on. Overall a smooth, strong head. Best gait again to Jacinta with her smooth, strong effortless movement
.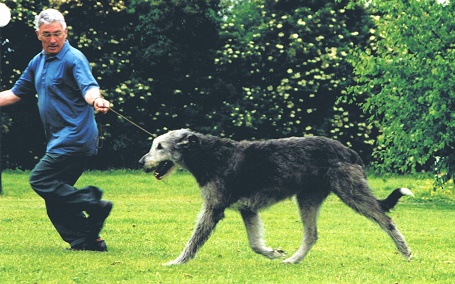 Mr O Simpson awarded Jacinta her second C.C. at Belfast, also in 1995
1996
Jacinta completed her UK title by winning her 3rd C.C. at Leeds under Wolfhound Specialist Jenny Dove.