Bearnabui Irish Wolfhounds
Breeder: Jim Behan | Swords, Co. Dublin, Ireland
Jim has been an important part of Irish Wolfhound history in Ireland for longer than most of the current generation of breeders, exhibitors and devotees could possibly remember. This gentle and humble man is always willing to share his vast knowledge and talk about anything concerning the breed - except, that is, his own considerable achievements. Therefore his friends considered it long overdue that his immense contribution to the breed should be recorded; that is the way this website came to be. - The Editors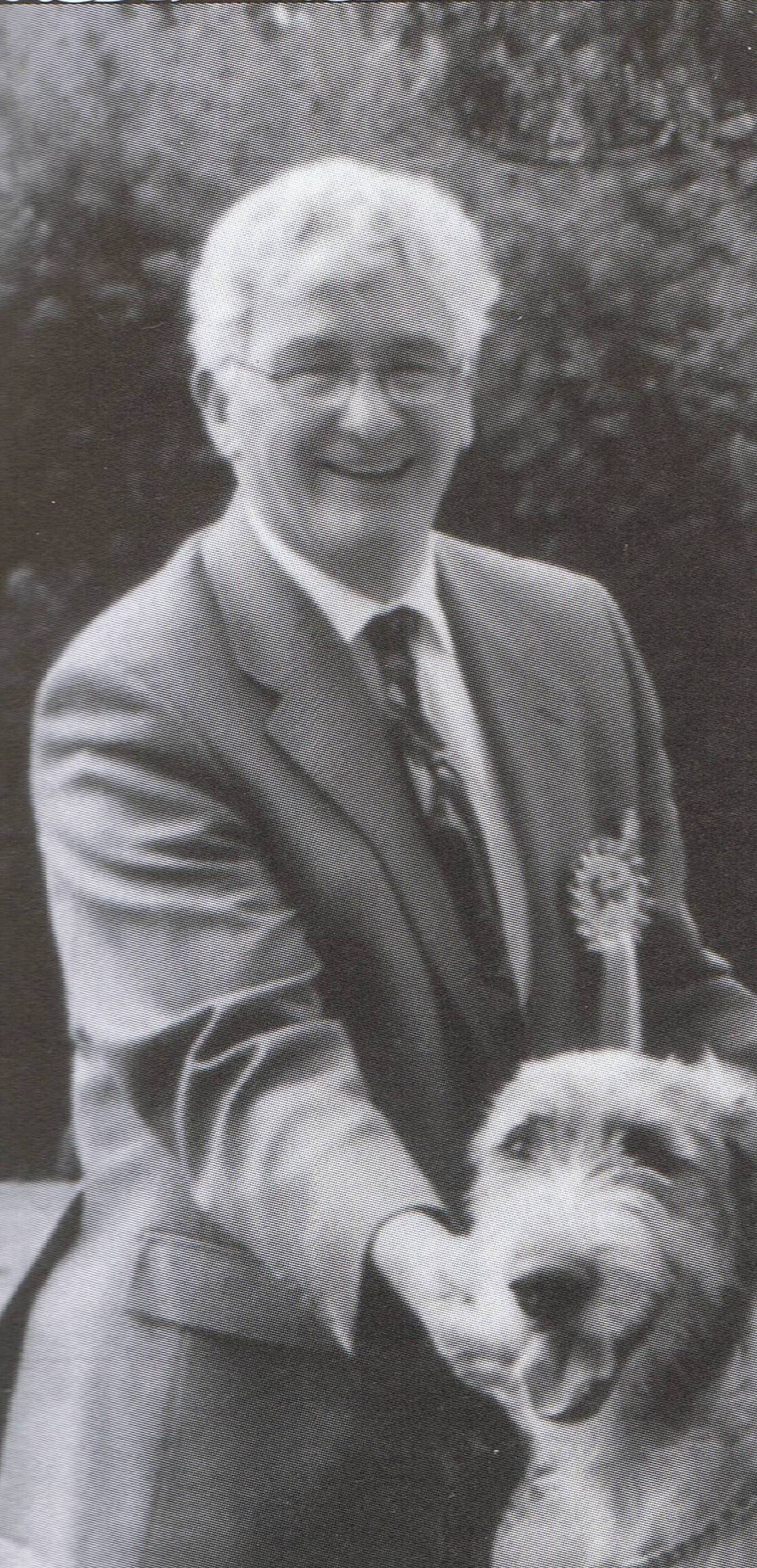 This is is my 60th year directly involved with Irish Wolfhounds. I say directly involved as they have always been in my life. Dr. R. J. May (Ballytobin Irish Wolfhounds) was the local doctor in my home town of Swords from 1915 to 1971. He was President of the Irish Wolfhound Club of Ireland for the last 50 years of his life. He got his first Irish Wolfhound in 1928 which was bred by Lady Talbot De Malahide.
My family lived on the Brackenstown road just outside the village, close to Dr. May's home `Glenview,` so we were always on friendly terms with his Irish Wolfhounds. We would stop at the gate to say hello to the puppies while on our way to and from school, if we needed to go to the surgery at his home we would be greeted by friendly adults or puppies. It has just occurred to me that no one was ever afraid of the wolfhounds in spite of their size. I remember Dr. May would often take the puppies for their road walks as we went to school, I later found out this was deliberate as it was part of their socialization. It was during one of these `meetings` that Dr. May invited me to help him after school. In the beginning I was too small to take the wolfhounds out on the road so I would exercise them up and down his avenue for an hour or so each day.
I can honestly say that my friendship with Dr. May dated back to my early childhood. In fact Dr. May delivered me into this world in 1941, as he delivered most of the children of Swords in those days. I am the youngest of my family by 20 minutes. Yes, I have a twin brother, Tom. He was born before Dr. May arrived and it seems no one knew that I was there for the previous nine months!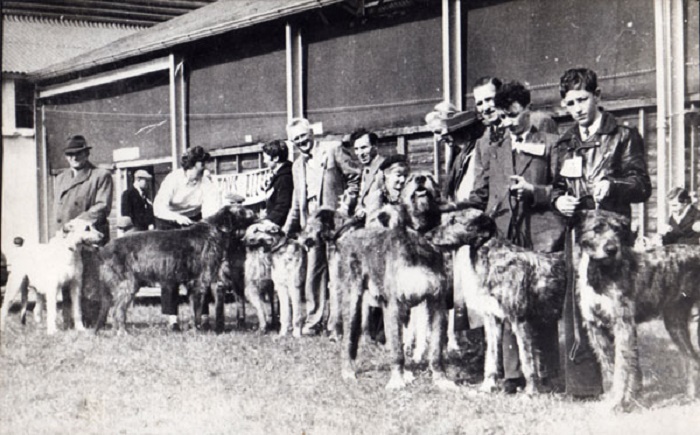 Jim (2nd from right) handling for Dr. May at the RDS
Helping Dr May with his wolfhounds was a very fulfilling experience. I enjoyed my apprenticeship with him as he taught me about rearing, handling and showing the Irish Wolfhound. He was very kind to me and he was generous in sharing his interest and vast knowledge with me. He devoted his life to the development and welfare of the breed. He passed away on 15th February, 1971. As chance would have it, on the same day Ireland's currency went decimal and we lost the image of the Irish Wolfhound from the six-pence. The breed lost a great friend and an icon of the breed on the same day.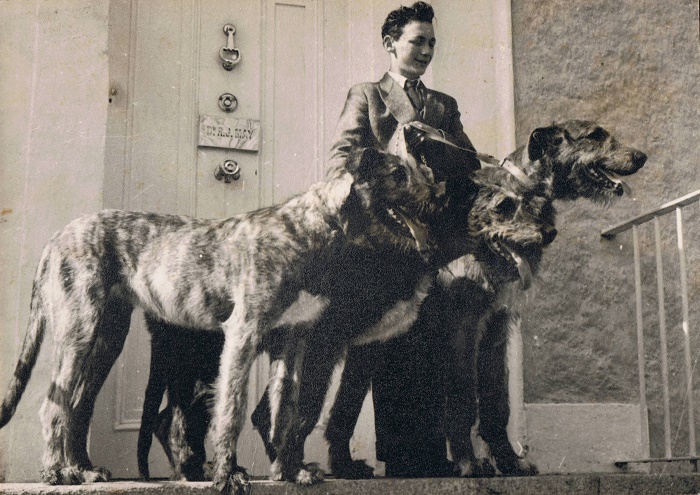 Jim as a young boy at Dr. May's home (1956)
By now I realised that Irish Wolfhounds were my life, not just a part of it. My own first Irish Wolfhound was Alan of Nutstown "Sandy," a present from John and Kathleen Kelly. They were involved with Dr. May in his later years, and they continued breeding from his lines and it was natural that I continued showing for them. Sandy had the sweetest nature, always happy and his only task in life was to please his `family.'
The foundation of my Bearnabui lines was the beautiful Ir UK Ch Mary of Nutstown. Mary was out of one of my favourite Irish Wolfhounds, Maeve of Balgee, by Boroughbury Justice. Actually, Mary was already in my life, as she had just come to me for show training. She was eight months old at the time. John and Kathleen very kindly gave her to me as a present, a very generous gesture. This lovely gesture was a measure of the good-will between breeders in Ireland at that time. Thank you John and Kathleen.
Mary was an extraordinary hound, not a big bitch but she had great presence. She had the most wonderful personality; she loved the show-ring, her conformation and lovely movement commanded attention, proving that type, conformation, movement and quality exhibit the desired Commanding Appearance as required in the Standard. Mary continued to improve with age and bloomed in her later years as can be seen from her success in the veteran classes.
She produced some lovely offspring as the following generations continued Mary's success in the ring.
My first two litters were by Betty Murphy's `Gwernyfed Lleigus of Carrokeel`, a wonderful hound. I felt he would complement Mary very well. I placed only one of their first litter in Ireland, Aine of Bearnabui, with Mike Barrett and his family in Limerick. She had a lovely life there on the farm, she was so well loved and had the freedom to ramble the fields and would bring home the odd rabbit as a present for her owners.
I joined the Irish Wolfhound Club of Ireland in the early 70's soon after Dr. May died.
I was very fortunate and honoured to be elected onto the committee in the second half of the 70's - at the second attempt.
During my time as a member of the committee I served as show secretary, rescue coordinator, editor of our magazine and Irish Kennel Club representative. In 1984 I was elected to serve as Chairman of the IWCI, a wonderful position for me. I thoroughly enjoyed working for our club and breed through these years up to the year 2000 when I resigned from the committee, but I still kept active in the background.

In 2010 I was invited to rejoin the committee as the President of our club; it was a great surprise and shock to me at first but I was truly honoured and pleased to accept the challenge. Since then we have been working tirelessly for our club and breed. I will end by saying that I thank the committee for their vote of confidence in me. They are truly a great bunch to work with.

Now for my judging career.
I began judging in Ireland in the late 70's, I believe my first appointment was in Drogheda, a limit show, very daunting as it was all mixed breed classes. Since then I have judged my breed and all other hounds frequently in Ireland.

I was honoured with my first overseas appointment in Germany, since then I have judged my breed in quite a few countries, including the USA, Canada, South Africa, UK, Switzerland, France, Denmark, Italy, Norway, Finland, Sweden, Hungary, Slovenia, New Zealand and Australia. I hope I have not left out any country.

It has been a great honour for me - I know I have used the word honour often throughout, but it is the one word that truly fits to show how I feel, and I am grateful to the Irish Wolfhound for making it all possible.

I would like to express my gratitude to the breeders whose stock helped me to establish the Bearnabui line.
I would also like to pay a special tribute to the breeders and friends who helped me along the road to success: Dr. May, John and Kathleen Kelly, Tim and Marion Finney, Betty Murphy, Ika and Ulli Peiler and many more.
A very special 'thank you' to my friend and colleague Betty Murphy for insisting that I should write something about myself and helping me patiently with sourcing and compiling old records and photos; to Ika Peiler for her enthusiasm, time, work and patience in giving the project shape; and to Larry May and Lough Arrow Notes for masterminding the web design.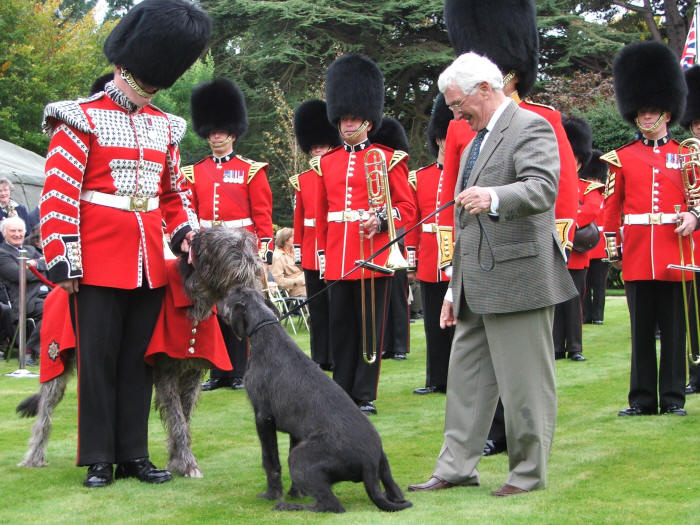 Jim handing over mascot
2012 - Domnaill, Irish Breeds mascot, being presented to his new regiment by Jim Behan,
President of the Irish Wolfhound Club of Ireland.